10
Mar
Mugabe cancels 'carnival' trip to India amid outcry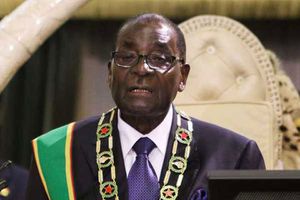 Zimbabwe's President Robert Mugabe has called off a trip to India where he was expected to attend a carnival after raising concerns about his security.
The 92-year-old leader had left Harare on March 7, 2016 to attend the World Cultural Festival in New Delhi amid protests by critics who argued that he was wasting resources on a trip that will not bring any benefits to Zimbabwe's ailing economy.
One of the country's privately-owned local newspapers had reported that the Zimbabwean leader would "cut a lone figure" at the festival because only former heads of states, ministers and legislators would represent their countries.
President Mugabe's trip got mired in controversy after Indian President Pranab Mukherjee cancelled his participation at the festival in response to civil a case where an environmental lobby group was challenging the organisers' choice of venue.
The group argued that the number of people expected at the festival posed a danger to the protected flood plain east of New Delhi.
Art of Living founder, Sri Sri Ravi Shankar, is the organiser of the festival that was scheduled to begin on March 10.
Security
President Mugabe's spokesman George Charamba on Wednesday said the Zimbabwe leader was now expected back in the country "in a couple of days" but did not say if he was already in India.
"His Excellency the President Comrade R.G. Mugabe has called off his engagement in India where he was scheduled to be guest of honour at the World Culture Festival," Mr Charamba said.
"The cancellation follows communication from organisers of the festival acknowledging substantial inadequacies in protocol and security arrangements around the event.
"A number of leaders slotted for participation, including those from the host country, have also withdrawn their participation.
On Monday State-controlled media had reported that President Mugabe would travel to Singapore after attending the festival in India.
The purpose of the Singapore visit was not revealed but Zimbabwe's long-time ruler makes frequent trips to the Asian country for treatment.
President Mugabe has often been criticised at home for his frequent travels abroad at a time his country is facing a serious economic crisis.