31
Mar
Mike Mbuvi impostor:A fake & conman impersonating Sonko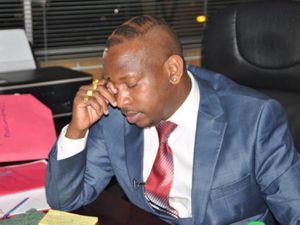 This is Why Senator Mike Sonko is Again TRENDING in East Africa & Diaspora
Nairobi Senator Mike Sonko has upbraided a Facebook account supposedly opened by a client to cheat cash from the general population.
The Senator affirmed on Wednesday in a criminal case at the Milimani law courts in which Mr Joseph Gitau is accused of opening the Mike Sonko Foundation page on Facebook which was utilized to request cash from general society.
Mr Sonko said he had never posted a solicitation on the page to request for reserves from general society.
Mr Gitau had asked for that the case begins once again after he composed to Boss Justice Willy Mutunga that he had lost trust in the past trial court.
AN IMPOSTER

"The man is a faker and a conman who utilized my name to trick well wishers on Facebook," the Senator told vital justice Kennedy Cheruyoit.
Also read: MIKE Sonko's Rescue team for you when too drunk !! NAIROBISM
Mr Gitau's trial was to be finished up by senior vital justice Joseph Karanja however he made an application to begin the case once again.
He has precluded charges from claiming abuse of an authorized correspondence framework furthermore, imitating the Senator.
The indictment charges that he had conned more than 3000 clueless" devotees" by false falsifications when he was captured in July 24 2015.
"During investigations, two other Facebook page accounts, that's Mike Sonko National Counties Walk and Wanjiku Voice of Kenya, emerged and are still being investigated," Mr Sonko said on Wednesday. Asked whether he knew the accused person, the Senator said he only came to know of him in court after his arrest.
RAPING STUDENT
"I also learnt that he had been accused of raping a university student after posing as a person who would find her a sponsor," the Senator told the court.
In cross examination, the suspect asked Sonko whether the Mike Sonko Foundation was a registered body, of which the Senator said it was not.
The prosecution told the trial court that Mr Gitau posted a message to
the effect: "This morning, I have issued cheques worth Sh6.2 million to Kenyans who sent to me Sh 1,000 on my M-Pesa line 0713004255.
Keep on sending as I will continue giving out millions. To all my fans, comment wisely to avoid to be banned (sic) from this page".
The prosecution said the offence was committed on July 11, 2014 and "caused needless anxiety to the community of Facebook users".
"I don't know you. You are a thief who preyed on vulnerable Kenyans," the Senator told the accused.