13
Mar
Wetang'ula set to kick off his presidential campaign next week if all goes well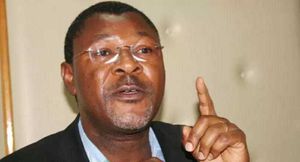 – Moses Wetang'ula, the senator for Bungoma, has stated that he will kick off his campaign for president ahead of the 2017 general election in Kakamega county
– The Bungoma senator and CORD co-principal stated that he will continue with his campaign announcement event despite 'dissenting voices'
Bungoma Senator Moses Wetang'ula has insisted that he will go ahead with the event to kick off his presidential campaign despite dissenting voices.
The senator will launch his campaign from Kakamega town.
READ ALSO: Moses Wetangula now announces launch of presidential bid
"Raila will be with me on that great day just as we were with Kalonzo Musyoka in Machakos some months ago. The rally is on regardless of the dissenting voices," said Wetang'ula.
The Bungoma senator made his comments after meeting with leaders of FORD Kenya in Kakamega town on Saturday, March 12. During the meeting, leaders from FORD Kenya endorsed Wetang'ula as the party's presidential candidate for the 2017 general election.
READ ALSO: The man Moses Wetangula accuses his wife of cheating with speaks
"We have deliberated on many issues with party members from the 12 constituencies in Kakamega County. I am optimistic the journey is ripe and the Mulembe nation desires to have its own as president," said the Bungoma senator.
Wetang'ula announcing that he will launch his presidential campaign has not come without criticism.
Notable criticism has come from Wycliffe Oparanya, the governor of Kakamega county, who claimed that Kakamega county is not a 'shopping mall' for political candidates.
The Kakamega governor however, did state that he would attend the launch of Wetang'ula's campaign as Raila Odinga, the party leader for CORD would be in attendance at the event.
"He has not informed me of the launch. But if he does and invites me, I will attend even though it is Raila who will be CORD's flag bearer," Opranya said of the issue.
READ ALSO: CORD- 'Violence' could be sparked if Malindi by-election is 'rigged'