13
Mar
Unbelievable!!! Just See The Expensive Sport Car Saumu Mbuvi Drives(Photo)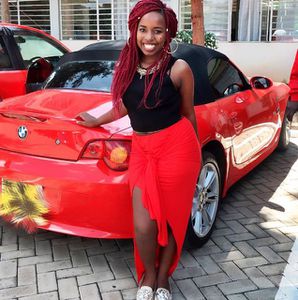 Children of the filthy rich! Sonko's daughter drives German-made convertible sport car.
Some say the car you drive defines your personality. What can you tell about Saumu Mbuvi who drives a BMW sport?
A while back, Saumu Mbuvi posted a photo of a red BMW 135i convertible even though she didn't say it was hers.
The immediate conclusion that many came up with was that the lass owned the car. You all know her dad's financial might, there is no way Sauma is the kind that poses on people's moti and then flood the social media with photos.
Anyway, Saumu has posted more photos of the red BMW at different places. She even went for an excursion in the car.