18
Mar
Uhuru Attacks CORD, Tells Them to Wait for 2032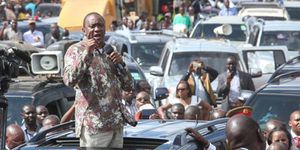 President Uhuru Kenyatta on Thursday launched scathing attacks targeting the Coalition for Reforms and Democracy (CORD) telling them to brace themselves for a rough time running the government come 2032.
Speaking during his trip of Baringo and Nakuru Counties, President Kenyatta faulted the Opposition for constantly criticizing his leadership.
Uhuru stated that his government had done better than the previous one, where the coalition partners were always in disagreement, and so should not be criticised over the numerous foreign trips as he is busy looking for funds.
"Let them leave us alone with our trips. They will come to know how difficult it is to look for money when they come to power in 2032," the President asserted.
The President, while in Nakuru town, took another swipe at his political rivals accusing them of perpetuating hate among Kenyans and asked locals to embrace unity to foster development.
"There are many who have tried to undo the agreements and vows we made at Afraha in 2013 that never again will the blood of innocent Kenyans be shed because of politics," said the President.
The head of state urged the locals to reject leaders who are spreading hate amongst them, given that Nakuru is a cosmopolitan region.
His deputy, William Ruto, who has been part of the trip also urged all the political parties associated with the Jubilee Coalition to merge and form the Jubilee Party ahead of 2017 elections.
Read Also: 3 Badly Injured for Attending Uhuru's Event