13
Mar
Obama warns White House hopefuls to avoid hate and violence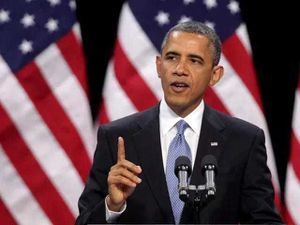 – Violence and protests rock a rally by Republican candidate Donald Trump that had been due to take place at a university that is one of the most diverse in the US, at a venue situated in the heart of Chicago, a Democratic stronghold where there are few registered Republicans
– Before the rally was even due to start, the scene for the evening was set as protesters inside the pavilion vented their opposition to the presidential candidate's positions on immigration, race and other issues where his rhetoric has proven divisive
US President Barack Obama has warned White House hopefuls to avoid fanning violence among the electorate through their campaign language.
This warning comes just a day after violence broke at a Chicago rally where Republican candidate Donald Trump was to speak.
The rally was cancelled but Trump went ahead to have what the media has described as successful rallies in Ohio, the AFP reported.
"What the folks who are running for office should be focused on is how we can make it even better – not insults and schoolyard taunts and manufacturing facts, not divisiveness along the lines of race and faith, certainly not violence against other Americans," Obama said at a fundraiser in Dallas, Texas on Saturday March 12, 2016.
READ ALSO: ban all muslims from entering the US, Donald Trump
According to the Guardian, scuffles broke out between Trump supporters, protesters and police, and a number of arrests were made, including of at least one reporter inside the University of Illinois Chicago Pavilion and in the streets outside.
"It's sad when you can't have a rally. Whatever happened to freedom of speech?" Trump was quoted by MSNBC.
READ ALSO: Al-Shabaab make film on racial injustice featuring Donald Trump