15
Mar
Muhoho Kenyatta is Now Dating CS Amina Mohammed's Daughter, Firyal Hossain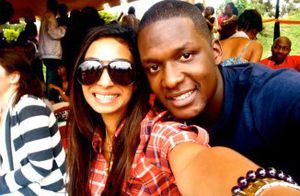 Muhoho and Firyal was recently covered by the media delivering various donations to KNH children's ward. It seems like they have decided to go public with their relationship.
She is also known to love guns that she doesn't shy from sharing her pictures with her treasured possession on the shooting range or just at home relaxing.
Firyal was for a very long time the girlfriend of Fred Gumo's son, Mayo Gumo. She is also the brain behind Nur Clothing. Firyal might have been connected to Muhoho because the two are designers. Muhoho is the brain behind Nomadic Designs. Mayo even helped her create the video below for Nur Clothing. But it's understood that the fallout between the two was not nice at all.
Muhoho is just from drug rehabilitation in South Africa. We are so happy to see him recover and be the great son of the nation he should be. All Kenyans should unite in fighting hard drugs.