04
Mar
Katy Perry showed her support for US presidential candidate Hillary Clinton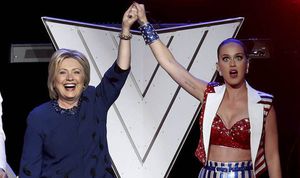 Perry, wearing a glitzy red bra and striped trousers, clasped hands with the leading Democrat candidate for the US presidential election after a concert In New York in aid of the Hillary Victory Fund.
The singer was one of a star line-up supporting the Democrat front-runner, 24 hours after her sweeping Super Tuesday wins in six states.
Perry, 31, dressed in patriotic stars and stripes, sang hits Firework, Roar and Unconditional to round off the sold-out I'm With Her concert to boost Clinton's campaign coffers as she seeks to clinch the Democrat nomination.
Another concert top act, Sir Elton John, told the 6,000-strong audience: "This is a very important year for America and she's the only hope you have."