21
Mar
Hassan Joho set to face William Ruto for the presidency in 2022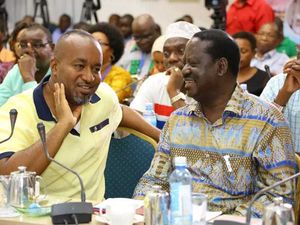 Kenya cannot be dominated by two regions says Hassan Joho
-Mombasa Governor Hassan Joho says he will be the first president to come from coast region in the 2022 election, he accused Jubilee of wanting to control the rest of the country yet not giving other regions the chance to rule
– Hassan Joho said the Malindi by-election was a sign that Jubilee has no future in the coastal region
Mombasa Governor Hassan Joho has declared that he will be running for president in 2022 general election.
The declaration from the Cord coast kingpin will directly pit him with Deputy President William Ruto who has also admitted to be running for the seat in that year's election.
Ruto will be supported by President Uhuru after 2017 elections as per their agreement from 2013.
The Mombasa governor said the people of the coast region should prepare to vote for him as the first president from the coast.
Joho accused the Jubilee government of trying to impose a reign dominated by two regions and plotting to claim credit for the success of county development projects.
"Kenya belongs to all of us and all must enjoy freedom and opportunity equally," Joho said.
Joho was speaking on Sunday, March 20 as he was launching roads, sewerage systems and a hospital built by the county and the Mvita constituency development fund for Majengo and Likoni.
READ ALSO: Photos: "Governor Joho's bodyguards" who stripped woman in Malindi
President Uhuru Kenyatta's statement that the Opposition should aspire to lead Kenya only after 2032 was blasted by the the Mombasa governor who accused Uhuru and Ruto of trying to conspire with the elites from their regions to control Kenya.
"This country cannot always be led by two regions. I heard President Uhuru saying those who want the presidency should wait for 2032. That is old thinking," Joho said.
Joho gave example of the Malindi by election as a sign that Jubilee has no future in the coast region after its candidate lost to Cord.
Joho also claimed that the government has not yet restored his police security as they had earlier stated and that he was afraid of nothing nor shaken with the lack of security personnel.
READ ALSO: Joho speaks out on KSh 200 billion project in Mombasa
The Mombasa county governor has particularly been on the spot after he protested the withdrawal of his body guards and an order that he surrenders his three guns.
According to Joho, the Jubilee government is determined to frustrate him after he led campaigns that led to his party, ODM, winning the Malindi by-election.
Joho has since protested the directives and has failed to return the guns as demanded despite the deadline day passing.
The governor has instead appealed the directive, saying he has never misused the firearms for the last 20 years he has been in possession of them.
Mombasa county commissioner Nelson Marwa hinted that Joho and his Kilifi counterpart Amason Kingi's bodyguards had been withdrawn because they had allegedly been involved in the stripping of a Jubilee agent who was allegedly found bribing voters in Malindi during the Monday, March 7 by election.
READ ALSO: Don't lose the fight, Raila tells Joho