08
Mar
Eric Omondi shows up for his fiance party aboard a helicopter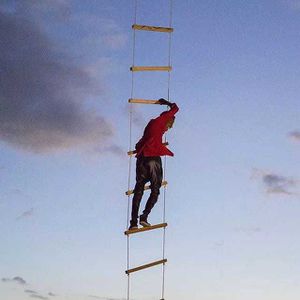 Eric Omondi show up for a party aboard a helicopter
– Eric Omondi stole the show at the carnivore grounds when landed in a helicopter ahead of the party that he was hosting alongside his Italian fiance
– The comedian used a rope ladder to descend from the helicopter as the crowd below cheered him on
Eric Omondi outdid himself on Saturday, March 5 while showing up for his fiance's party dubbed 'Chantal's red and black party'.
On Saturday March 5, 2016, Eric Omondi stole the show when he showed up at his girlfriends party aboard a helicopter. A stunt that has been popularized by Kenyan politicians.
READ ALSO: Eric Omondi won't get married on March five, here's why
His entry was the stuff of the movies. The helicopter hovered over a crowd that had showed up for the red and black affair. In the momentary whirlwind conjured by the helicopter's rotors, Eric descended from the helicopter in a ladder as the crowd below cheered wildly.
See photos below:
Eric Omondi shows up for his fiance's party aboard a helicopter
Eric Omondi poses in front of a helicopter before his grand entrance. He showed up in a red nautical jacket, extended Y-front pants and Versace sneakers
Eric omondi descends from the helicopter amid cheers from the crowds below: Photo: Eric Omondi Instagram
His daredevilry was applauded by Kenyans who had turned up for the much anticipated party. In attendance was Eric Omondi's friend Chipukeezy who was in the company of his fiance, Empress Kerry.
Nameless who had been hyped as the 'best man' delivered a stellar performance wowing fans who were in attendance. Radio personality Kalekye Mumo was in attendance alongside Dj Creme De La Creme and Deejay Pierra Mackena.
READ ALSO: Photos: See comedian Eric Omondi's romantic proposal to his Italian fiancee on Valentine's day
The Chantal's red and black party had been hyped from February 2016. It was given hype after Eric Omondi got engaged to his Italian fiance on Valentine's day. The story line had it that the two were likely to get married on Saturday, March 5.
It later turned out that all the heat was just hype for an event.
Image source: naibuzz.com
https://tuko.co.ke/103975-photos-eric-omondi-dangerously-descends-from-a-helicopter-using-a-ladder-at-his-fiances-party.html