21
Mar
Breaking,waiguru appointed member of firearms licensing board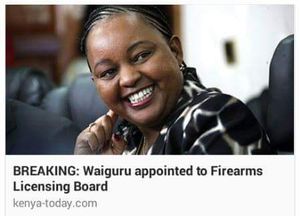 Watu wa kuendelea na kumeza ni mmoja tu,letaa wako wapi???😃😃
KUTENDA NA KUMEZA
The govt we want
Sendhi wewe, hizi ni project za baba kama hujui
Myna Brown endelea kuota mchana
Write a reply...
Peter Ronoh Nimekuwa hapo leo.ni opposide kmc near mombasa road.wakina kenduiywa Richard of kapsenda is there i went there to greet him
Zakarry Ule Mordekai Infact no peaceful person can elect these cordoms war lords who are announcing spilling of blood in front of TVs n Kenyans as if they lives on diesel mchimba shimo aiingie na avunjike mwenyewe am crying 4 peace all over kenya
Victormutua Mutua wah is it in Kenya
Margaret Chepkoech Where has it reached now

?
Jeremy Sirma In Nairobi
Jeremy Sirma Negit koit kaaa
Margaret Chepkoech Sure ? In nairobi. . Someone has said Tsavo
Kemboi K Elvis Osisye magoit orotab maat kaaSee Translation
Jeremy Sirma Kemboi K Elvis hahaha ndomo ulium Ruto ile kotonyone train olinyoon ooh
Haron Koech Between Mombasa and Nairobi ,its almost completed only a fraction of joinery work.!!smart&beautiful indeed!! Negit koit gaa
Kemboi K Elvis Jeremy Sirma Ngalek chotok anyun
Jeremy Sirma Kigongunen olibo kaa
Kemboi K Elvis Haron koech Ngemuite inye
Jeremy Sirma Kura kwa jubilee wakituruka 2022 ogete chitoo
Write a reply...
Judy Njoroge >><>URGENTLY LOOKING for serious individuals located in NAIROBI and its environs to work with me on full time or part time basis and earn an income ranging from Ksh 5,000-10,000 weekly. I will therefore train them to get started . if interested send your name and location to>><Kissah Njoroge 0705091854 <<<VIA TEXT ONLY..
Kariuki Gitau Governor $$$$ Business opportunity for those located within Nairobi and its environs (0729639159) are you looking for a part time( i.e EVEN STUDENTS )or full time business opportunity . An internet marketing firm based in Nairobi is looking for serious individu...See More
Nyash Pere ngombe ya m7 unajua wametumia wakula pesa ngapi
Paulyne Ngugi Jubilee hoyeeee!
Makanda Wakoli Mathews Worst tribalists
Gatobu Miriti Ukabila no lazima wengi wapewe
Makanda Wakoli Mathews gatobu, good news is that Kenya is sinking with all of us..Jubilee and CORD
Write a reply...
Benard Mekere This is apurely nusu mkate project Mr.
Jeremy Sirma Benard Mekere mbona nusu mkata guys didn't construct is let's give credit where its due
Gatobu Miriti Benard Mekere hakuna cha mkate hii no kazi ya kamwanaa
Henry Munene Yap!!!
Franc Irungu Kabisa
Roho moja
John Kiprono i respect your opinion, but have no even a single reason,
Allan Sang Shearer hapa Athi River?
Harrison Kariuki great job, wish someone can be allowed to vote as many time as he wishes, jap #turihamwe
Zablon Rotich that is where we are heading ,you can take the dongey to the riveqr yet you can't' force to drink,
Kalulu Shadrack That's Raila /Kibaķi initiative, pole!
Paulyne Ngugi Wacha wivu Mr hii ni kazi ya Jubilee.
Write a reply...
Jeremy Sirma Kalulu Shadrack uongo kabisa just accept the truth and give credit to jubilee
Jacquline Nungari Io Bomba
Smeon Sewe Nooo this is not the reazon you are voting theM back, jubilee sympethisers are all liners from leaders to psychofants you are only voting them because of tribal name since yours is worse than a poor man